The difficulty of installing the iBooster from a Tesla in your non-Tesla car van vary per model. In modern cars that already have an integrated master cilinder / vacuum booster setup and four disc brakes it might be a more or less a drop-in replacement. Often older cars require more modifications.
iBooster dimensions and bolt pattern
Nowadays there are two versions available of the iBooster by Bosch, GEN1 and GEN2. The GEN1 is typically found in the Tesla Model S and the GEN2 in the Tesla Model 3. Both master cilinders have a bore of 26 mm and the brake nuts used are M12x1 (tightening torque 16 Nm). It is a staged master cilinder connecting to the front and rear brakes (see below). In my setup the pedal travel resulted in a 15 cm3 brake fluid volume displacement. In the below sections you will find the differences between the two generations of iBoosters.
For my 1967 Volvo Amazon I developed a mount using an old original master brake cilinder, some tube and the above weld adapter for installing the iBooster. Due to the weight of the brake booster I did add an additional mount at the front.
You can contact me if you need any custom solution like this.
---
---
iBooster in cars with rear drum brakes
When installing an iBooster in a car that originally has rear drum brakes often some more modifications are needed. Master brake cilinders for cars with (rear) drum brakes have an internal residual valve. Master brake cilinders for cars with four discs don't or one with less pressure. Therefore adding an inline 10 lb residual valve is recommended. It prevents the drum brake springs to retract the brake shoes all the way back and thus reduces pedal travel and improves brake pedal response feel. Both position A and B in the below diagram are valid for the residual valve.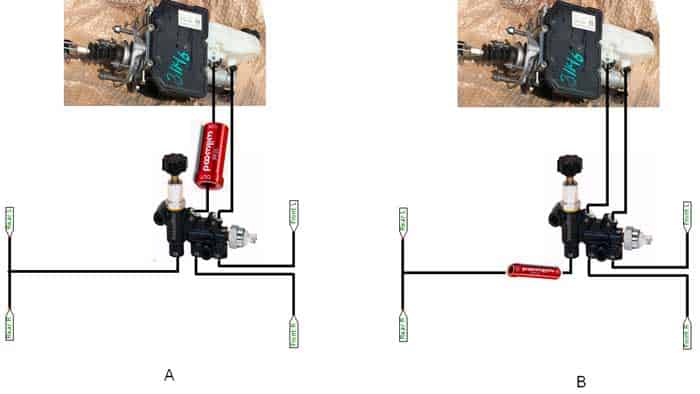 The above diagram also shows the Wilwood combination proportioning valve (260-11179). It features a knob that allows you to adjust (reduce) the rear brake pressure. This helps in fine-tuning your brakes as most stopping power should come from the front wheels. EVcreate offers both the residual valve and the proportioning valve.
The combination proportioning valve features a 1/8-27 NPT port and by default holds a brake light switch. However the port can also be used to hold a pressure transducer (via an adapter). In many controllers or vehicle control units, the signal from the brake pressure transducer can be used to activate regenerative braking when hydraulic braking is used. Contact me if you are interested in the adapter and brake pressure transducer.
---
Wrap up installing an iBooster
In conclusion I prefer the GEN1 iBooster due to the more convenient dimensions and brake fluid reservoir orientation. However given the number of Model 3's currently being produced by Tesla the GEN2 might become more easily available. Looking forward to hearing your implementation stories in the comments.
Thoughts on special implementations
In case you do not have room for implementing the iBooster in line with the brake pedal push rod you could consider a hydraulic master/slave remote setup. This typically applies to cars with a remote vacuum booster or no booster at all. Or if you need to create space for battery boxes.
Blog series on power brakes
Installing the iBooster
Performance test of the Tesla iBooster
CAN control of the iBooster